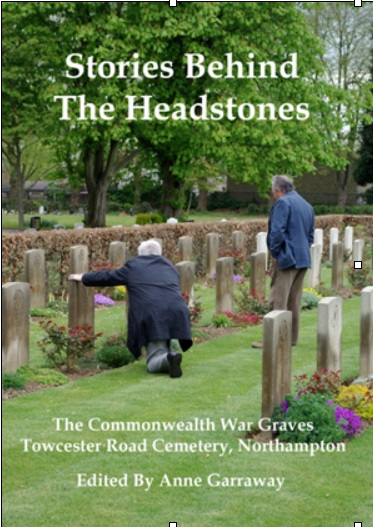 This project was started in 2011 by the group as a way of commemorating the anniversary of the start of the First World War in August 2014. After looking at various projects it was decided to write a biography of each of the men and one woman buried in the Commonwealth War Graves Section in Towcester Road Cemetery, Northampton. During our research we found that there were also three Czechoslovakian burials from the Second World War in the Jewish Section. In addition, as 2014 is about commemoration we included the ten German men who were originally buried in Towcester Road during the First World War and were subsequently moved, in the 1960s, to the German War Cemetery at Cannock Chase.
Local people went to war and came back to Northampton to die. Men came from all corners of the world, mainly in the First World War, and died in Northampton. Stories Behind The Headstones gives a glimpse into their lives. We tell their stories and bring to the reader the tragedy of that war with families losing up to three sons; women losing husbands and brothers; and one family losing a father in the First World War and his son in the Second World War.
The book is priced at £9.99 and is available from Waterstones in Abington Street and Northampton Museum. It can also be purchased at Northampton
u3a
meetings in June, and September; the Picnic in August; the WW1 exhibition at St Sepulchre's Church the weekend of 2nd and 3rd August; Heritage Day on 13th September, and by post from Chase Park Publishing, 10 Highfield Way, Yardley Hastings, NN7 1HQ. Price by post is £12.49 to include postage and packing and cheques should be made payable to Northampton
u3a
.